Monday, December 21, 2009
Hello my loves!
It is almost time for the good games to happen in the sports world! Check out today's Crazy Sports!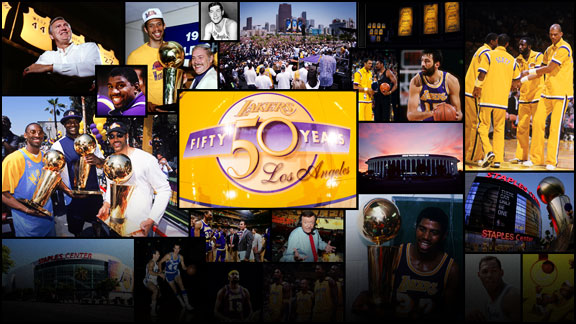 As if we don't see enough of the purple, white and gold, ESPN decided to commemorate the 50th anniversary of LA Lakers. This season marks 50 year since the team's move from Minneapolis to Los Angeles during the 1960-1961 season. Now, I am going to piss some you LA fans off, but I HATE THE LAKERS. Let me re-phrase the statement to be politically correct, I DISLIKE THE LAKERS! I do believe they are a strong team and they win good games, but they win games because of Kobe the snitch! Yes, I said it, KOBE THE SNITCH! I do not like snitches and he snitched my all-time favorite plyaer Shaquille O'Neal dirty by putting him on blast to save his own ass back in the day when he had a jump off. (Yes, I hold grudges....I don't care :-p)
However, The Lakers has had some all-time great players over the years such as Magic Johnson, Kareem Abdul-Jabbar, and James Worthy. However, I am quite tired of the Kobe Show but I will suck it up and wish them congratulations on their 50th anniversary.
Snaps to you!
Speaking of Jump Offs and Snitching!
Jumpoffs or not, he is still on top! A big congratulations goes to Tiger Woods after being named Athlete of the Decade by The Associated Press. This comes after his huge scandal that began during the Thanksgiving holiday. Listen, he is a nympho, yes, but he is a great golf player and let's be real, PGA needs Tiger! With his departure from the game, PGA's ratings have declined tremendously.
All I am saying is what the man does in his personal life shouldn't affect his game and professional career. Besides, what athlete you know has been faithful to his wife/girlfriend?I think there should be something written in all pre-nups dealing with athletes that says
"Agreeing to marry this athlete, you will be subjected to deal with his hoes and/or crazy baby mamas, groupies. Failure to agree with these guidelines mean no check for you."
It is sad, and I don't condone cheating, but that how the game is folks. Consider it like this, if you put a cookie in front of a fat person who is on a diet that won't allow them to eat what they want, soon enough the pressure will get to them and they are going to crack causing them to eat the whole entire bag of cookies since they were deprive of what they love. Therefore, my theory is since Tiger might have been deprived of some nookie from his wife, he went on a binge. I know it sounds bad, but why else would he cheat on his wife, especially on some ugly ass women. It is a cry from a horny, desperate man.
So sad, but congrats!
And Finally,
I want to wish a HUGE good luck to the G-Men, New York Giants. Tonight's game is an important one for them! They better consider this game against The Washington Redskins a must-win as they will need The Packers or The Cowboys to finish 0-2. You see why I am scared.
Good Luck! And win!