Wednesday, December 9, 2009
Aloha!
Here is what makes up today's Crazy News....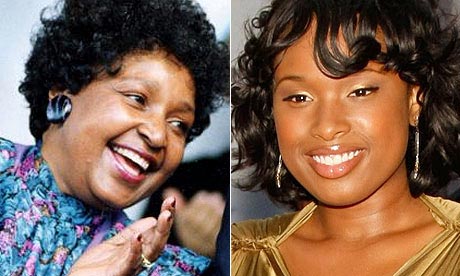 Some people are not happy with Jennifer Hudson playing Winnie Madikizela-Mandela in the Nelson Mandela biopic. According to UK's The Guardian, members of the Creative Workers' Union of South Africa said the US actress and singer should not be allowed to play the iconic figure as there are many native South African actors and actress who would be a much better fitting in the role. They also criticized the casting of Morgan Freeman as Nelson Mandela in the movie

Invictus

.
Oupa Lebogo, general secretary of the CWU, said of Hudson's casting
: "This decision must be reversed, it must be stopped now. If the matter doesn't come up for discussion, we will push for a moratorium to be placed on the film being cast in South Africa. We are being undermined, there is no respect at all."
In some way, I can understand the CWU's frustration. Why is it necessary to cast an American in a role that can easily be played by a native South African? Also, keep in mind, Nelson Mandela is a legend in the South Africa as well as around the world so I know that the native actors are somewhat hurt to know they are not allowed to represent their icon. We have to see how this story is going to develop as shooting for the film is schedule to begin in May.
I must admit, the little girl in me is so excited to see the all new Disney flick, The Princess and The Frog. After seeing the commercials and how beautiful Disney made the characters, I have a feeling that this will be a huge box office hit for the company! I am not going to lie. I was extremely caught me off guard at how the movie came out (judging from the commercials I have seen). I was preparing my picket sign to protest Disney as I expected some Cabbage Patch looking gremlin to represent the first black princess. As you know they always seem to make the minority characters look somewhat distasteful in films so I find it comforting to see a great representation in this film. Kudos to you, Disney!
CNN talked to entertainment producer KJ Matthews about how Disney can market the newest princess to enter the land of make believe in the 21st Century. Check the clip below to see the segment....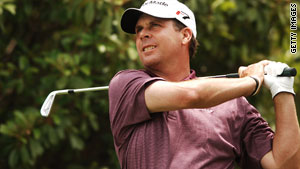 As if PGA needs anymore problems right now after dealing with Tigergate! CNN.com is reporting that the Professional Golf Association is being sued by top golf player Doug Baron after being suspended in November for taking testosterone. As many are aware, the sports world has been cracking down on athletes taking performance enhancing drugs for quite some times. However, in Baron's case he needed to take
synthetic testosterone and beta blockers for his heart condition that he has been battling for almost a decade. The golfer also suffers a low testosterone level as his natural testosterone count was 78 nanograms per deciliter of blood where the average man his age has the level of between 300 and 500. PGA forbids any taking of testosterone as many athletes take the drug in order to become stronger (like how Mark McGuire took steroid in order to look like he was the incredible hulk when he was playing baseball). However, Baron argues that he needed to take the drug for medical purposes.
This is a tricky situation. If they allow Baron to take the drug, you are going to have a lot more players using the excuse that they are "sick" in order to be able to take testosterone. Sorry, Doug, rules are rules and though I understand you need the drug for medical purposes, you knew what was expected of you by the PGA rules and guidelines.

I think this case is a done deal.